Residents of residential project of the FINEP company can gather information from a magic mirrorin their house.
Although some might see the mirror as a banal and useless thing, its use has a hundred-year tradition. Mirrors became a sophisticated medium for space enlargement and intensification of day and artificial light in architecture. However, modern technology and innovative thinking allow us to use the mirror in a more sophisticated way. It is a way of implementation of so-called smart solutions which provide an accessible a natural source of information. Public, private, commercial, and residential premises today are becoming ready for use of smart reflection surfaces which are not only a reflection of reality, but also a gateway to the "world behind the mirror".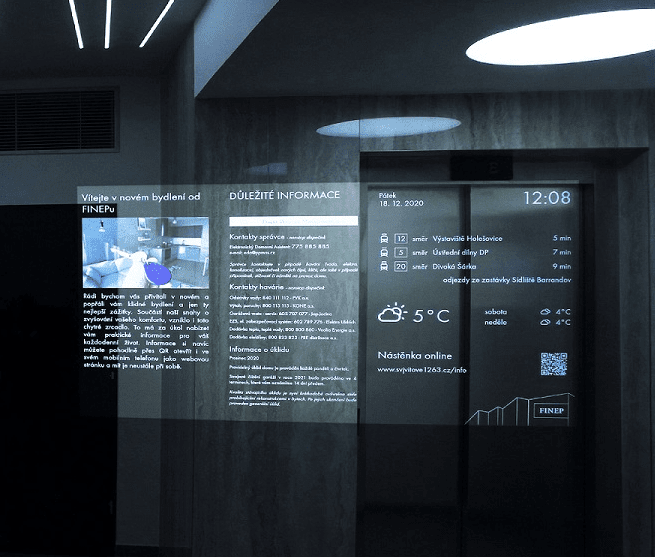 Imagine a situation when you walk out of your flat and a look into the mirror in your foyer offers you information about weather or public transport near your home. Such information and news can be used by residents of apartment house in the Hugo Haas Street in Prague since September 2020. This house is a part of residential area called Kaskády Barrandov which was built by the FINEP company. And it was FINEP who came with the idea of smart mirrors. They initiated this pilot project with the help of their business partners – technology suppliers and implementation company – and they made this idea become reality to satisfaction of their clients.
For the smart mirror implementation solutions of Czech technological companies (including Ki-Wi Digital) were used. As for installation, Audiopro s.r.o. was recommended, a company that, besides professional studio, video conference and special technologies for security and emergency forces, also specializes in designs and installations of complex audiovisual systems.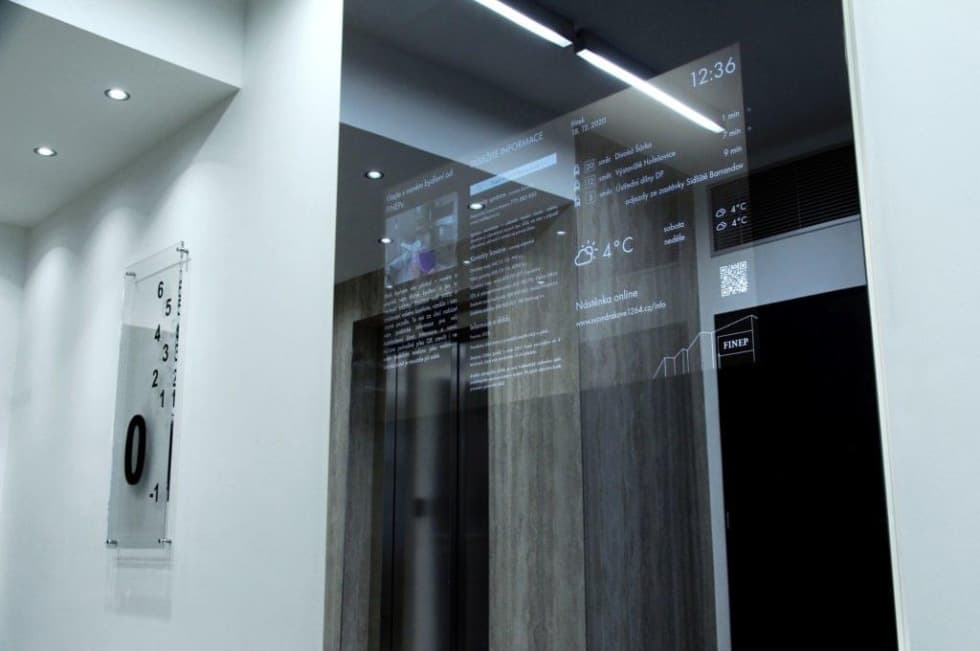 The content of the smart mirror in Barrandov is controlled and set by the operator. The "world behind the mirror" is equipped with Ki-Wi Player able to display a large portfolio of media such as photos, video, audio, web, PDF, PowerPoint, stream, or RSS. "The LCD screen can be also remotely turned off or restarted, monitored and the display and energy can be maintained by automatic turn off settings. All this can be controlled via Ki-Wi Server CMS application," says Petr Adamík, Development Manager of Ki-Wi Digital who develops software for touch and classic screens. "An appreciated benefit of our solution is that you can have different screens "under one roof", meaning you can control and manage their content remotely from one interface of the Ki-Wi Server control application (CMS) regardless of number of screens, their type or manufacturer," adds Petr Adamík.
The smart mirror in Barrandov proves that there is a reason for existence of smart mirrors even in this world full of mobile applications, touch screens, GPS systems, voice control, and other various solutions to improve the quality of our lives. The smart mirrors technology can also be used for various purposes reaching from shops and fashion shops to restaurants, bars, hairdresser's, museums, galleries, or apartment houses. They can provide an elegant source of specific information in a form without a negative or disruptive effect on interior design. The fact that smart mirrors can be a natural and effective addition of our everyday lives is also proved by the intention of FINEP to implement this technology to other houses and residential projects also outside of Barrandov with the assistance of their current partners.