Interactive mobile stage Lancôme La Vie Est Belle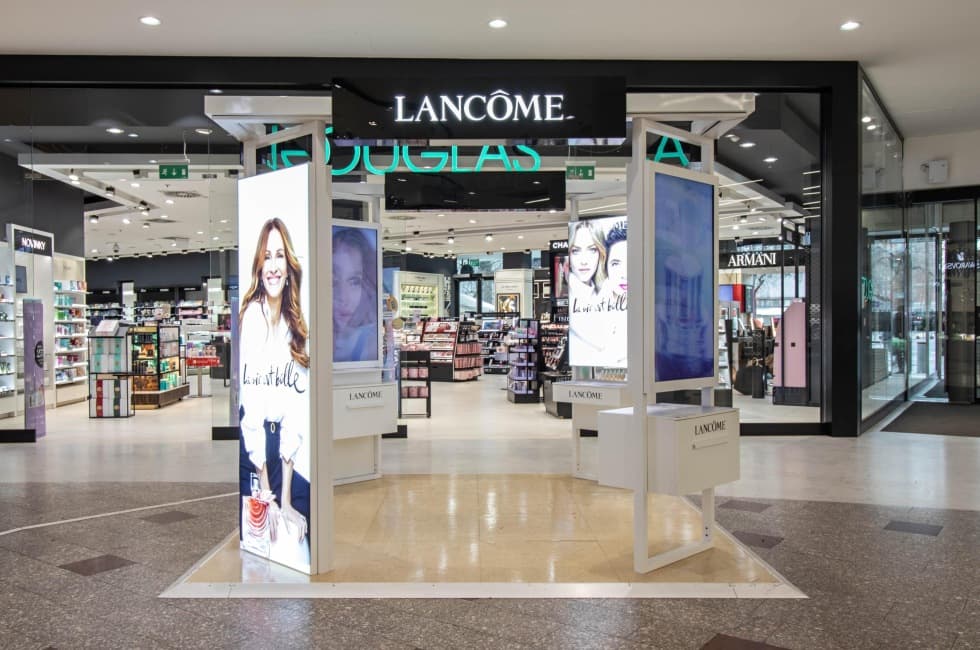 Interactive mobile stage Lancôme
La Vie Est Belle
Futuristic design and illuminated visualisation attracts customers' attention in an instant. Digital presentation on a stage, accompanied by interactive elements, guarantees the ultimate shopping experience. Designed exclusively for the La Vie Est Belle perfume line, this interactive stage offers amazing flexibility and can be used to present various Lancôme products.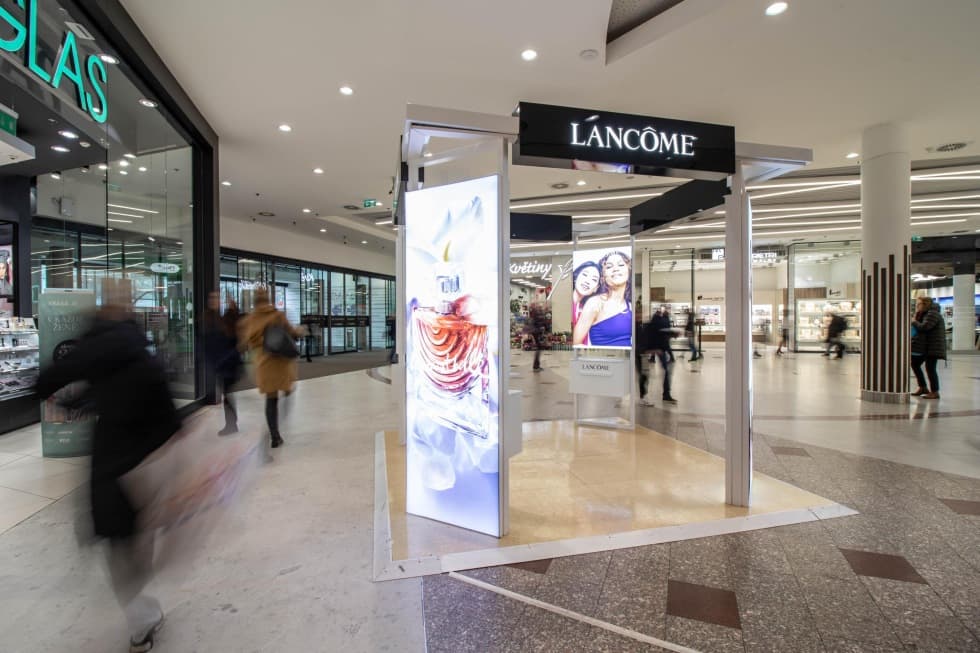 The Future is Phygital – Physical and Digital Meeting in the Middle
Replacing print slowly but surely, digital is the prevailing retail trend. Not only it attracts customers but also meets modern eco-friendly standards, while cutting down costs — for distribution, transport, production of decorations. This exceptional Lancôme interactive stage has no competition in digital. The front of the stage is occupied by a couple of eye-catching screens which run in synchronised regime, catching every passerby's attention.
Interactive Zone — RFID
Third display is installed inside the stage, serving as an interactive zone. This so-called engagement point takes customers inside "the product game". By choosing one of the five products, the digital shelf on the screen automatically plays a video regarding the picked product. The customer gets comprehensive information about the product without having to search for a member of staff.
The interactive zone is built on Nexmosphere products — perfect for creating interactive experience through technology. Technology invites the retail customer to inspect presented goods, offers detailed info about products, and assists the customer by offering advice and consultations. The utmost shopping experience.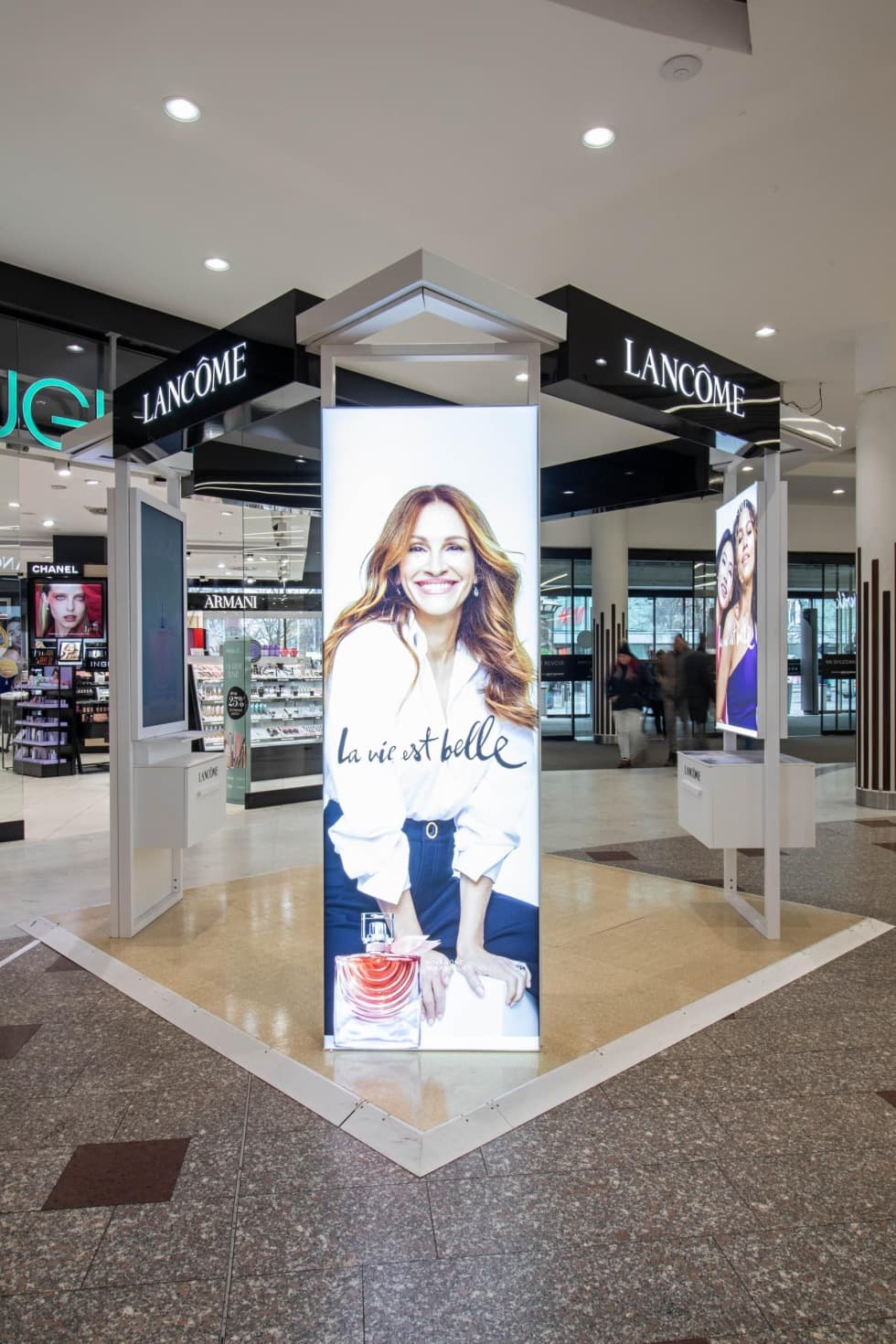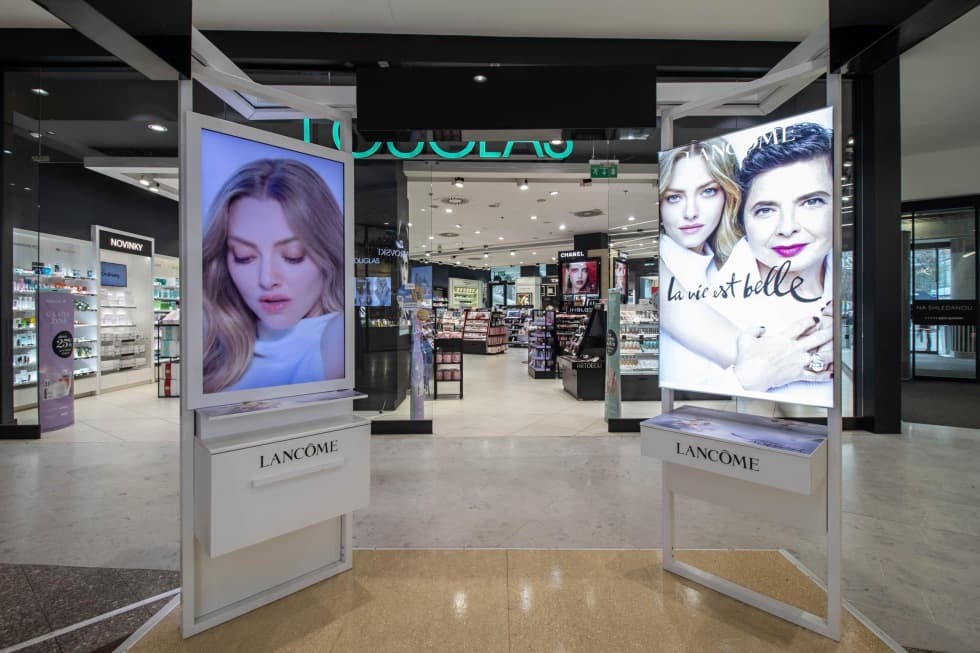 Customer Experience
The main goal of the stage is to stand out and gain attention for promoted products. Mobile stages are a massive trend this year. Subdued during the Covid pandemic, physical promotion and offline shopping are getting back into the spotlight. Pop-up stages and innovative promotion techniques attract new as well as recurring customers.
Mobility & Sustainability
The La vie est Belle stage is flexible and sustainable. Its elements are variable and can be updated to serve multiple purposes in various campaigns. All visuals are interchangeable, furniture details (sockets, cupboards) can be swapped for other types, to complement various advertising styles.
Communication as the Cornerstone of Fruitful Collaboration
The entire project stood on communication channels among the L'Oréal team and the agencies REXY, DEX and Ki-Wi Digital. Part of the design follows the Lancôme standards to a tee, another part is the result of great teamwork between the L'Oréal team and REXY agency. DEX Digi Experience took care of digital communication and all interactivity was sorted out by Ki-Wi Digital. Ki-Wi also provided remote control management of the screens — using smart modern technologies to save time, costs, and enable effective control of all interactive systems.
The result of this colab is a brand new concept that enhances the customer experience in retail, prioritising mobility & sustainability, and linking online and offline in one.