We Supplied 10 Information Kiosks with an Advanced Managing App for Doosan Bobcat
A world-renowned manufacturer of compact loaders and excavators, Doosan Bobcat has a large production facility located in Dobříš — approx. 60 km from Prague, Czech Republic. At Ki-Wi, we supplied 10 information kiosks with an advanced managing app for the Dobříš facility. These kiosks make it possible for employees to check their clocked hours and vacation days, update their personal data in company's HR systems, and read important info about actual topics and events in the company.
More Comfort for Employees
Information kiosks make it easier for employees to navigate through company's HR systems. Doosan Bobcat's HR Department required 24/7 availability of information so that employees working night shifts don't feel left behind. They wanted employees to be able to check their data in HR system whenever they want, and send requirements to HR electronically.
Thanks to information kiosks, employees can:
check their clocked hours and vacation days (RON Software),
display their personal and accounting data,
send a request to HR,
recommend new colleagues,
read an important notice from the employer,
contact employee helpline,
find tax info (the TOS app enables employees to adjust their personal and accounting data, ask for their annual tax settlement, and more).
Employees are able to sort out their HR requests in just a few clicks in any information kiosk — they don't have to make a call to HR or go there in person. It's possible to overview current vacancies from a kiosk, or pay an online visit to the Bobcat shop. There's various helpful info to be found under the My Bobcat tab.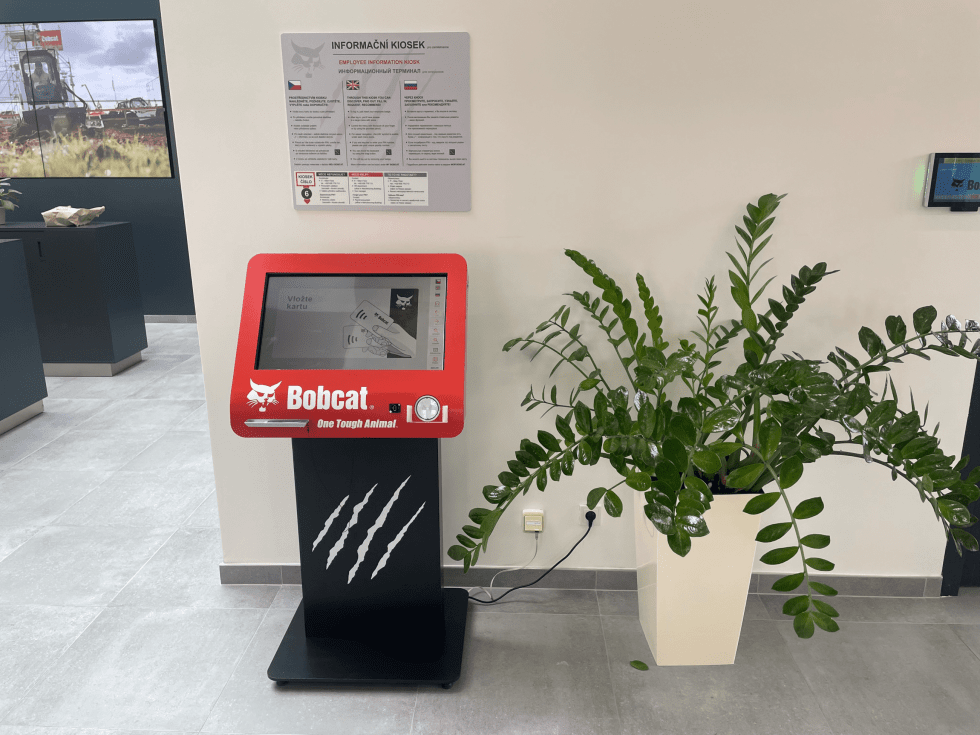 Supplying Kiosks and Perfecting the Managing App
The information kiosks we delivered to Doosan Bobcat incorporate a wide range of functions. Practic Panel 23 touch kiosks are equipped with an RFID reader, a SHARP printer, and an electronic signature pen.
To make it possible for employees to use all functions of information kiosks to the max, we improved our kiosk managing app Ki-Wi Player Windows — it's now 64-bit and equipped with new functions:
We've developed these functions to suit the needs and meet the requirements of Doosan Bobcat, but we're sure they will be helpful for various other companies. We've supplied the same or very similar kiosks to e.g. Foxconn CZ, Continental SK, Johns Manville, Osram SK, and more.